05/05/2021
Hocking Hills State Park Earns National Innovation Award!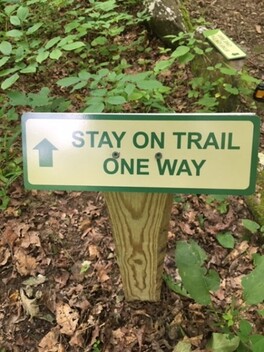 Last April, during the onset of the COVID-19 pandemic, so many people were looking for green space venues that Hocking Hills State Park visitation, which normally averages three to five million visitors per year, was soaring to levels well beyond that average. The resultant crowding along hiking trails made it impossible for social distancing to take place, and as a result, ODNR made a historic and unprecedented decision to close the park that month.
While the park was closed, park management and staff began looking very closely at the park's trail system, which hadn't been changed in decades. Members of the park's staff who were experienced trail builders developed a one-way traffic pattern which could also accommodate the park's average annual attendance. Their action list included protecting the park's delicate landscape and ecosystems by doing all the work by hand and completing all work in time to open all trails by Independence Day weekend 2020, when the park officially reopened to visitors.
For their innovative design which ensured visitor safety, and the willingness to put in a tremendous amount of manual labor in order to get the job completed on time, the management and staff of Hocking Hills State Park was recently awarded the 2020 Innovation Award by the National Association of State Park Directors during the organization's annual conference. Please join us in congratulating the hard-working management and staff team of Hocking Hills State Park, which is annually at the top of this list in terms of Ohio state park visitation.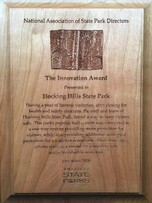 The body of the plaque reads as follows:
"During a year of historic visitation, after closing for health and safety concerns, the staff and team of Hocking Hills State Park, found a way to keep visitors safe. The parks popular trail system was converted to a one way system providing additional ecological protection for a sensitive ecosystem. Their innovative efforts serve as a model for providing safe access to valuable resources."
Please help us help them keep the park beautiful, and ensure its continuing legacy as the gem of Ohio's state park system. Please make a donation to the Friends of the Hocking Hills State Park today.