Complete Story

10/27/2020
FHHSP Board Members Inducted Into ODNR Hall of Fame
FHHSP Board Members Receive Ohio's Top Conservation Honor
FHHSP BOARD MEMBERS RECEIVE OHIO'S TOP CONSERVATION HONOR
Ohioans recognized for their efforts to keep our state beautiful.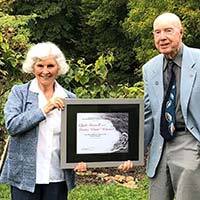 Two FHHSP Board members have been awarded Ohio's highest conservation honor for their outstanding contributions to the protection and enjoyment of the state's natural resources.
Welcome to the Ohio Natural Resources Hall of Fame husband and wife conservationists Clyde Gosnell and Dr. Louise (Omie) Warner of Ashville.
"Ohio is fortunate to have so many committed conservationists with a deep passion for educating and including the public in their work, their positive influence will continue to impact our state far into the future."
ODNR Director Mary Mertz

The inductees have devoted much of their lives to safeguarding the beauty of Ohio's natural landscape for today's enjoyment and for future generations. Each has served their respective communities, and the state, for decades.
Clyde Gosnell and Omie Warner have dedicated their lives to the protection, preservation, and enhancement of Ohio's environment and its precious natural resources, with their accomplishments over the last 30 years being particularly noteworthy. Omie and her late husband, Dr. Jack Warner, founded the Stratford Ecological Center, located in Delaware. This 236-acre site consists of a non-profit educational organic farm and nature preserve. Clyde helped found the Appalachia Ohio Alliance, a regional non-profit conservancy dedicated to the conservation and stewardship of natural land and water areas throughout Southeastern Ohio. More recent accomplishments for this dynamic couple include being the driving force behind the building of the John Glenn Astronomy Park and the re-routing of State Route 664 near Hocking Hills State Park to improve visitor safety. In addition to being veteran Board members of the Friends Of The Hocking Hills State Park, both Clyde and Omie are members of numerous ecological, agricultural, and conservation-based organizations, and they have created a legacy of environmental, agricultural, and natural resource protection and conservation for the benefit of Ohio and its people.
The Ohio Natural Resources Hall of Fame was established by ODNR in 1966. Currently, 175 individuals have been accorded the honor, which recognizes a lifetime devoted to the preservation, protection, and wise management of Ohio's natural resources. Previous Hall of Fame honorees include the legendary Johnny Appleseed (John Chapman), Ohio-born explorer John Wesley Powell, botanist Lucy Braun, and conservationist and novelist Louis Bromfield.