2017 Hocking Hills Poker Run - Saturday, August 12
If you like to ride, save the date for the 2017 Hocking Hills Poker Run! Get ready to experience the natural beauty of Ohio's scenic wonderland - the Hocking Hills region. Why not make a weekend of it, and rent a cabin or stay in one of the area's many great campgrounds? Registration for the event is now open. You can also just show up on August 12, if you don't want to register in advance.
The form can also be printed and mailed.
Below is the map of this years route. With the starting, ending, and card draw stops along the route highlighted in bold black letters. Due to the fire that burned down the Hocking Hills Dining Lodge, the start of the Poker Run has been moved to the Lake Logan Beach area. And, the Poker Run will end at Millstone BBQ.
Here is the order of the card draw stops:
Lake Logan Beach area
Rock House on Route 374
Ash Cave on Route 56
Lake Hope Beach off of Route 278
Millstone BBQ
When you arrive at Lake Logan Beach area to start your ride, you'll be given turn-by-turn directions a map, and the form where each card you draw at each stop will be recorded.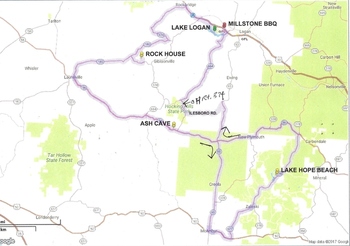 In addition to the $600.00 that we award annually for the winning hands, there will also be plenty of great door prizes. Watch this website and your "Friendly Updates" for further details.
---
Future Poker Run dates: Saturday, August 11, 2018
Saturday, August 10, 2019
Poker Run